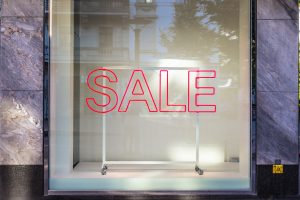 You need to pitch your product at a networking event, but you're worried it'll look like you're only there to sell.
It's time to write your website but you don't want to come across as too 'salesy'.
You're great at talking to potential new clients about your business but choke when it comes to actually asking for the sale.
You're not alone; somewhere along the line, 'sales' has become a dirty word.
When I worked in sales I was ashamed to tell people that was what I did. Advertising sales executive; it conjures up a distasteful image of pushiness, of ethically ambiguous suits driven by nothing but commission.
And yeah, it was totally like that!
We were actually told 'everyone needs this product; you just have to find a way to convince them'. Even if the customer had given 5 excellent, valid, logical reasons that they didn't need to buy what I was selling, I still had to work with the belief that 'everyone needs this product'.
But it wasn't true — it isn't true for any business — and it's why I took a nosedive out of that career path pretty early on. It's also why earlier versions of my own web copy had me crying from the rooftops that I specialised in 'non-salesy' copy! The experience had left a dirty taste in my mouth and I let it inform how I looked at the art of sales for years afterwards.
But copywriting — good copywriting anyway — has bog all to do with beautiful writing and everything to do with sales. And it has taken years of running my own business to realise that I'd let a few bad experiences skew my view of an essential element of business ownership.
I bet you can relate. For so many people, sales is that horrible taste in your mouth.
Or at least that's what it has become.
It's the intrusive phone call while you're about to start a meeting.
It's the knock at the door when you're trying to get your kids to bed.
It's the oily salesman who cares more about his commission than about matching the right products or services to the right people.
Because that's what sales is at its heart. When you strip it of all of the elements that we think make it sleazy:
Sales is matching the right products and services to the right people at the right time. [tweet link]
Without this, you don't have a functional business. It's time to make friends with the art of sales.
Let's look at step one in the sales process as an example:
Building a rapport.
Every trained salesperson ever will have been told that this is step one on the sales journey. It's why they so obviously throw your name into every sentence.
'Well, Clare. Yes, Clare. The thing is, Clare.' It feels false because generally, it is. When a salesperson doesn't actually care about their prospect (another horrible word), they have to force themselves to talk in this way. It's a conscious effort for them and that's exactly why it comes across as forced.
But if you're running a business, presumably you've gone into it out of a desire to help.
Take me; I live for entrepreneurship. While I was still working my day job a colleague mentioned a vague wisp of a business idea she'd been thinking about. By the time we'd finished our lunchtime cuppa soups, I'd worked out 5 different services she could develop, decided which social media channels she should use and had written out a list of next steps for her to follow.
I want to see people thrive while they're building the business of their dreams. So building a rapport with my clients becomes easy because I'm so excited about what they're doing.
And I'm guessing you feel just as passionate about the aims of your customers, whether you're helping them put together their dream wedding or building them an IT package that will revolutionise the way they run their business.
And that's exactly why I want you to abandon any worries you have about this first, essential step of sales. You WILL be able to build rapport because you genuinely care. You've built a business because you love what you do and you know that whatever you're selling is going to change people's lives in one way or another.
That's why you don't need tricks or to remember to repeat their name five times in every conversation. Rapport will come naturally. Because you know you can help and you're excited to show them how!
A little experiment.
I want you to take a moment to remember the last time you bought something online.  Think about the process you went through as you trawled through the various websites you found. Did you, at any point, feel like you were being sold to? That it was intrusive or dishonest?
Of course not, because you needed that information.
Now let's imagine that you're in search of a new VA. You're determined to work fewer hours in your business and spend more time with your family and you have a ton of work that you want to outsource. Finding the right person to take care of things for you will be a huge weight off your mind. It'll be bloomin' life changing!
You search for VAs online. You want to know everything. What they can help you with, how it'll work, what it'll cost. As you read through the various websites you ARE being sold to but there's nothing distasteful about it, you NEED that info.
In fact, if there's a VA out there who's just right for you, you'd be pretty pissed if they kept that juicy info to themselves because they were worried about coming across as too 'salesy'! As business owners, they'd be losing out, but as a potential customer, you'd be losing out too. They'd be doing you a huge disservice.
How this relates to your marketing.
This is exactly the kind of logic I want you to apply when you tackle your marketing, whether you're writing your web copy, planning a social media campaign, or writing a proposal.
To paraphrase Zig Ziglar, you're not selling, you're helping.
Forget your bottom line while you're writing, forget that you're selling. Your job right now is to match the right services to the right people. It's to provide people with the information they need to solve whatever problems are bugging them right now. Please know that if you're offering a product or service that really does work, you're doing your potential customers a HUGE disservice by not selling to them.
Sales isn't as much a set of skills as it is a mindset. And if you approach your sales and marketing with this mindset, you're on your way to producing excellent sales copy.
The problem isn't 'salesy' copy, the problem is our perception of sales. If we bring sales back to what it really is — helping people find the right products or services to solve their problems — there's nothing sleazy or unethical about it. Nothing to be ashamed of at all!
And really, if your copy isn't 'salesy', if it isn't written to sell, you have a problem. Then it's just words on a page. So when you're writing your own marketing copy or having someone write it for you, you don't want to avoid 'salesy', what you really want to avoid is sleazy. There's a huge difference — I'm glad I finally cottoned on!
Like this?
Try more posts for small business owners:
How to create a content marketing habit that sticks.
How to use social proof to boost your business.
How to run a cold emailing campaign without annoying your customers.